At Cezaa we build amazing marketing websites every day. You're experiencing one right now!
In this article, you will:
Learn what it takes to create an amazing marketing website.
Discover the signs of a bad marketing website.
Gain useful tips on exactly how to get results from your website.
The Four Grades
Bad
A bad marketing website will scare off customers and send them back to Google and your competitors.
Good
A good one will let people know you exist.
Great
A great one will attract, inform, and engage your customers and foster repeat business.
Amazing
An amazing one will delight your customers and make them shout how great you are to all their friends and the world via social media.
How Cezaa Can Help You
Cezaa can help by grading your website in a free, no obligation, website report.
Request your report today, as we only have time to grade ten websites for free each month.
Content and Lots Of It
Customers Want Information NOW
The content you put on your website is critical. Customers need information and they need it NOW!
The days of your customers waiting until business hours, Monday to Friday (except holidays), are over.
A Lack of Information is Costing You Customers and Money
Customers will not wait for you to open to get their answers. They'll head back to Google and onto the next search result (your competitor) and buy or make their decision before you even open.
If you paid for the click (search advertising), that is money down the drain. You just spent a few dollars to give a potential customer a bad impression.
Every Question Must Have an Answer
Your customers have lots of different and sometimes crazy questions. Your website must answer every single one of them.
As soon as a customer has a question they cannot answer. They're moving on. Maybe you're the only game in your town, but with the internet, the customer's town is the world, giving them many alternatives.
By answering all your customer's questions, you demonstrate your expertise and that your product or service can solve their problem. But most of all, you demonstrate that you understand them.
Pro Tip
Keep a list of every single question that you're asked by a customer and make sure your website answers every single one of them.
As a bonus, this saves you time answering them over and over again by email (often after the customer has bought from your competitor).
Navigation and Finding Answers with Search
You have information, but can customers find it?
Your website needs to make it dead simple for customers to find what they want.
When customers are browsing on their phone at 2am, they don't want to click through a million tiny links to find the answer. In fact, they never do.
Navigation is More Important than Appearance
Most companies care an awful lot about the appearance of their website (and it is important) but give too little attention to navigation and helping customers find what they want.
The problem is that customers care much more about finding what they want than they do about your website's appearance.
HubSpot conducted some excellent research and found that for a whopping 76% of those surveyed, the most important website design factor was that "The website makes it easy for me to find what I want". Appearance was much less important as shown in the following pie chart: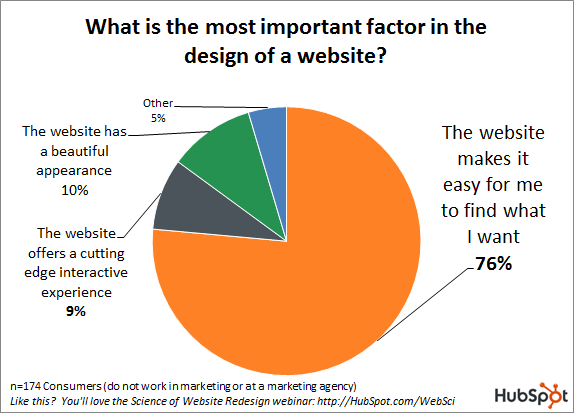 Don't Limit the Amount of Content on Your Website
Once you have lots of great content on your website, it can be hard for customers to find what they want.
Some website owners are aware of this problem and address it by limiting the amount of content. Big Mistake!
The solution is search.
Navigation is an Old Problem
Way back in the 1990's, web directories like Yahoo were a popular way to find information on the web. But they failed, because they made it hard to find what you want.
Web directories used a link-based hierarchical navigation system similar to the primary navigation system you find on most websites today.
These systems make it hard to find what you want.
Search is The Solution
The solution to navigation problems is a search engine; which is why we created Fractle, a search engine optimized for business websites.
Google is optimized for the vast number of pages on the web and makes it easy to find what you want.
Fractle is optimized for the much smaller number of pages on your website and makes it easy for your customers to find what they want.
Pro Tip
Use a state-of-the-art search engine like Fractle to make it easy for your customers to find what they want on your website.
Fractle includes auto completion and spell correction, which helps your customers quickly find what they want, even on the tiniest of phones.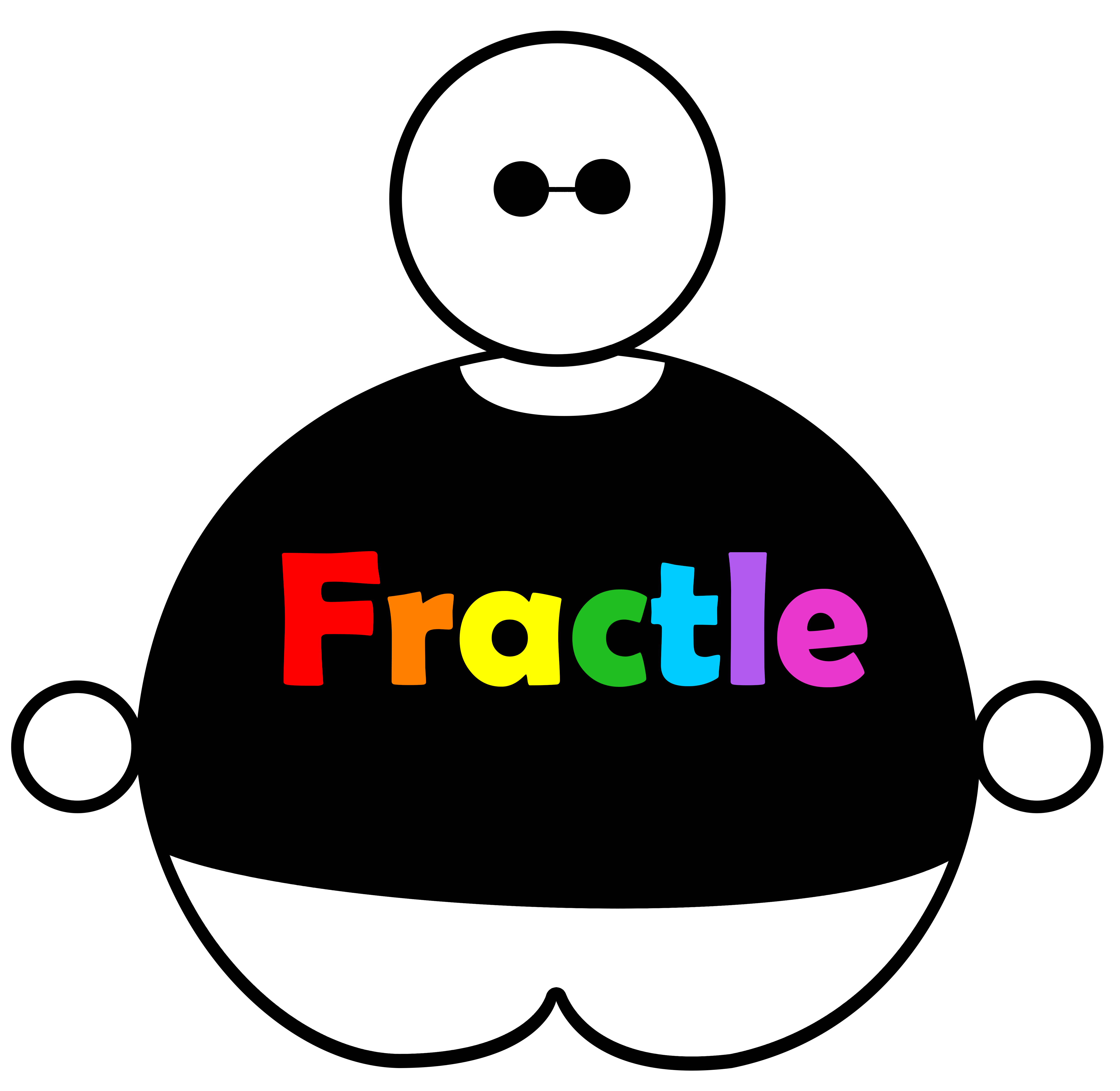 How Cezaa Can Help You
Cezaa can help by setting up a free, no obligation, demo to show you how easy Fractle will make it for customers to find what they want on your website.
Book your demo today, as we only have time to setup one free demo per week.
Attracting New Customers
Everyone wants more website traffic, but how do you get it?
4 Great Ways to Get Visitors
Advertising
Content
Social Media
Newsletters
Advertising
Advertising is a terrific way to get visitors fast, but unless you do it the right way, advertising is also a fast way to lose money.
If you have small margins, high costs per visitor, and low conversion rates, advertising is not going to work for you.
If you have big margins, low costs per visitor, and high conversion rates, advertising is going to work wonders for you.
Pro Tip
Do NOT pay for advertising that sends visitors to your home page. If you are, you're probably losing money on every click.
Your advertising must send visitors to optimized and targeted landing pages. This will increase your conversion rates and make advertising profitable.
Content
Content is a fantastic way to get visitors for free, but it takes time and you need amazing content.
The more content you have on your website, the more ways people can find you in Google.
But don't write irrelevant rubbish. Your content needs to be amazing or it will perform poorly. The best content gets ranked the highest in Google, gets shared by the most people on social media, and gets read by the most people.
Pro Tip
Write amazing content that people will want to read and share.
Advertising content is not amazing content. People don't read advertising, people don't share advertising, and advertising does not get ranked at the top of Google (unless you pay them).
Social Media
Social Media is a wonderful way to get visitors from your fans and their networks, but you have to delight your fans and keep them engaged with your brand.
When you create amazing content, this is something your fans will want to share and can be a great way to gain fans.
People love to share their experiences. Wow them with your amazing product or service and they'll share the news. But beware, if you disappoint them, they can share that experience just as quickly.
Pro Tip
Share useful information on social media and not just product details and company news. You want your followers to read and share, not block and unsubscribe.
Newsletters
Newsletters are a superb way to nurture your visitors before and after they become customers. They are similar to Social Media, but you control the network and can direct different information to different subscribers.
Don't spam your subscribers, if you send too often, your newsletters will be treated as spam and deleted.
Send useful information that your subscribers will want to read and ideally share.
Pro Tip
You can personalize your newsletters.
Send different information at different times and different frequencies to different subscribers based on how they have responded to past newsletters. Did they open them? Did they read them? What did they click on?
How Cezaa Can Help You
Cezaa can help by measuring the performance of your current attraction strategies and offering advise on how to improve your results and where to focus your efforts.
Contact us to discuss how we can help you attract more visitors to your website.
The Inbound Marketing Cycle
Attracting customers to your website is not enough. At least not if you want results and a positive return on your investment in your website and online strategy.
The inbound marketing cycle is a process that repeats, reinforces, and grows your business, your website traffic, your customers, and your reputation.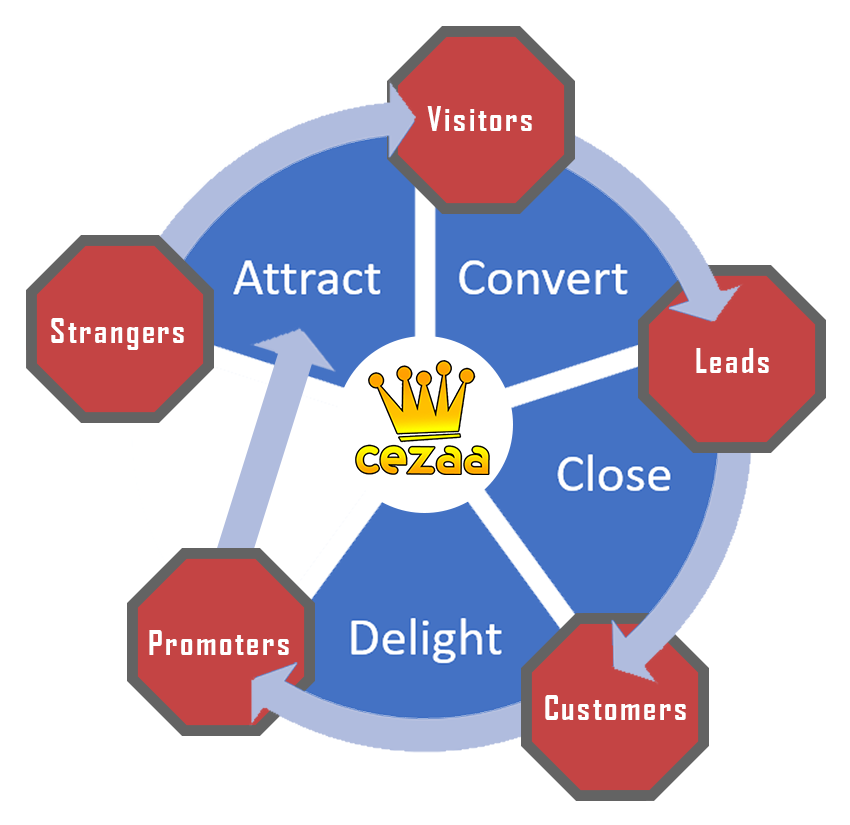 The Cycle Explained Step by Step
The cycle starts when a stranger is attracted to your website.
Once you have attracted a visitor to your website, you convert them into a lead by offering them a lead magnet.
Once the lead is in your sales funnel, you close the deal to turn them into a customer.
Finally, you delight your new customer with your amazing product and service to turn them into a promoter, who then goes and shares their delight – which attracts more strangers, completing the inbound marketing cycle.
Heads Up
Advertising is actually an outbound marketing strategy.
Advertising works well with inbound marketing when targeted and optimized correctly and for small local businesses that operate within a geographically defined territory, it is often the most efficient attraction strategy.
Converting Visitors into Leads
The Customer Journey
Your visitors and potential customers are on a journey to find the right product or service for them.
The customer journey varies wildly between industries, between products, and between companies. The journey for your customers may be short and simple, or it might be long and complex.
Pro Tip
Create a customer journey map that is unique to your business.
This will help guide the creation of content, landing pages, advertising campaigns, and make them much more effective by letting you understand and target visitors based on their position in their journey.
Capturing Leads
Once you have a visitor on your website, you need to turn them into a lead.
Not every visitor is ready to buy immediately; this is especially true if your customer journey is long and complex.
By capturing leads, your team will have the information they need to contact, communicate, and convince, the person behind the visit, that your product or service is right for them.
You can collect anything your team needs, including:
Name
Contact Details
Job Title
Company Name
Interests
Pro Tip
Measure the success of your visitor attraction strategies by the number and quality of leads they generate.
33 Lead Magnets to Get More Leads
You capture leads by getting visitors to complete a form with the required information. But users are hesitant to give their information away for nothing.
So how do you entice someone to fill out a form?
You must give them something of value. Something useful to them right now. Something that demonstrates your expertise. Something that helps them solve a problem. Something irresistible.
There are lots of things you can give away, here are 33 lead magnet ideas:
Advice
Assessment
Audio
Calculator
Calendar
Case Studies
Catalog
Challenge
Checklist
Competition
Coupon
eBook
Generator
Guide
Infographic
Membership
Newsletter
Planner
Presentation
Quiz
Quote
Report
Sample
Spreadsheet
Template
Training
Trial
Video
Waiting List
Web App
Webinar
Whitepaper
Worksheet
Landing Page Optimization
The best way to capture leads is on a specially optimized landing page.
Remember, you should not be sending paid click-throughs from advertising to your home page. Create a landing page fit for purpose.
Pro Tip
The secret to Search Advertising is that you control the query, message, and destination page.
By controlling the query, you know what the visitor wants. By controlling the message, you restrict click-throughs to visitors with the right goal. Then by creating a landing page for the destination, you can ensure the visitors act as you desire by providing a lead magnet that satisfies their goal.
To optimize your landing page, you need to measure its performance. You can use Google Analytics to track visitors and events such as form completions. When combined you can use these measurements to evaluate the performance of your campaigns and your landing pages.
To optimize the performance of a page, you need to run tests: a controlled experiment to work out what changes to make to get better results.
To carry out such an experiment, you make changes to your page, then randomly split your visitors between the two versions. By comparing the results of the changed page against the results for the original page, you can see which version performs best. You then adopt the changes or revert to the original based on the outcome. Finally, you move onto your next experiment.
How Cezaa Can Help You
Cezaa can scientifically tweak your website to increase your conversions, sales, and performance.
Contact us to discuss how we can optimize your website and improve your results.
Closing Sales and Delighting Customers
Once you have a lead, the visitor enters your sales funnel and it is time to sell. Once you get a purchase, the visitor becomes a customer and it is time to delight them.
The sales and after-sale service processes you employ will be unique to your product or service and will generally involve manual or offline elements, but there are ways your marketing website can assist.
Here are 8 ways you can use your website to assist in these processes:
Anticipate and handle objections by addressing them before they arise.
Provide great answers to every pre-sale and post-sale question.
Nurture your leads by providing them with the right information at the right time using dynamic email campaigns.
Provide valuable content that demonstrates your expertise and increases trust in your ability to deliver.
Make it easy to order or purchase your product.
Respond quickly to all enquiries by the visitor's preferred communication method.
Help customers to help themselves with wizards, guides, and tools to solve common problems and resolve issues.
Help customers to share their experiences by offering them effortless ways to do it.
How Cezaa Can Help You
Cezaa can create wizards and tools to help your customers solve common problems.
Contact us to find out what wizards and tools we could create for your website.
Measure Success and Repeat
For your website to consistently produce impressive results, you need to measure those results every step of the way and adapt to changing customer behaviour.
Pro Tip
An amazing marketing website is never done; they require continuous improvement and refinement to produce excellent results.
You should be using Google Analytics or similar tools to track your visitors and the performance of your advertising campaigns, your content, and your social media efforts.
You should also be tracking the results of your lead magnets, landing pages, email campaigns, and sales.
By cross tabulating your traffic and your results you can determine what techniques are most effective and increase your investment on those. You can also identify which techniques are not working and refine or optimize them to increase their performance.
For example, if an advertising campaign is gaining you a lot of visitors, but no leads, it may be poorly targeted or poorly optimized. Either way, it is not giving you a good return on your investment and you should either scrap it, re-target it, or optimize it.
How Cezaa Can Help You
Cezaa can setup, track, and analyze your raw data and turn it into actionable reports and advice that explain in plain english, what you need to know, when you need it.
Contact us to find out how we can help you succeed online.